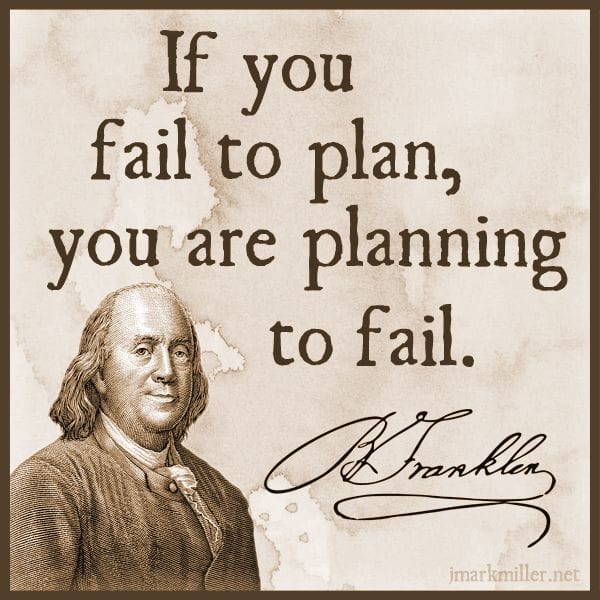 "If you fail to plan, you plan to fail." – Benjamin Franklin.
I originally titled this 'The Importance of Plans and Goals', then realised that without a goal, there's no need to plan. 
But then what is a goal and why do we need them? To me a goal is about understanding. Understanding ourselves, our wants, society, family, etc. To set a goal we first want to understand WHY we want to achieve the goal. Most of the time this will be subconsciously known to us but it's always best to know The Why and the Goal.
We need goals to give life direction, meaning and progress. Too often when asking people 'What did you do on the weekend?' you will get the lacklustre reply 'ah, not much' or 'just chill'. Firstly, if that was my goal – to chill and do nothing, then 100% fine. But if you sit on your couch watching the Olympics or an amazing documentary thinking 'How amazing, I wish I could do that', then you need to ask yourself the hard questions: 
What is your purpose? 

What makes you happy? 

What gets you out of bed each day?
Although not a necessity, I would recommend first, understanding yourself (The Why), then building your Goals and then The Plan to achieve those goals.
Looks like a lot if going on… Start from the left. 
What gets you out of bed, then;
Link these to goals, and then;
Set a plan to achieve these goals
I find the more connections you can make between your joys and what gets you out of bed, the more strongly a goal will resonate with you.
Example: Goal: Ultra-Trail du Mont_Blanc
The Why (what I get out of bed for)

:

Love for mountains, nature and scenery

Love for Travel – chance at a French-Swiss Adventure

Running (can) give me a euphoric 'high' during and a sense of accomplishment after

To challenge myself – A few years ago, if you told me that someone ran 170kms with ~10K elevation change, I would say it's impossible. Those people are heroes. I want to be a hero. Maybe part god complex part egotism part conceited but I like to challenge myself to do things most people wouldn't dare or chance upon themselves to accomplish. A paradox which could be written on my tombstone – Ross 'The Humblest' Michell.

Goal

: I want to run the

Ultra-Trail du Mont-Blanc

(a 170km mountain race in the Swiss-French alps with one of the largest fields). 

The Plan

: like all of my big goals, planning starts with a Google Sheet.

Research the course (Length: 170K, Elevation: 10K, Cut off: 46h 30m). How on earth will I do this?

Research: running, types, podcasts, coaches, travel and course map.

Set up a training plan

Find and hire a coach

Timing – Yearly in August

How to Qualify: 10 ITRA points in a maximum of 2 races. Which races will I do…. This basically turned into it's own adventure

Convince the wife to allow and support me
Most importantly, writing these things down can help you as your go. It sure helps me when I write these articles.
Happy Planning!